Automatic Duplicate Photo Finder and Remover
With Image Comparer, you can scan your hard drive for duplicate photos and then delete the ones you don't need. This can save you a lot of space on your hard drive, and it can also help you keep your photos organized.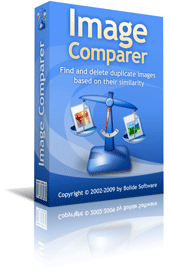 So, would you like to:
locate and delete photo duplicates in a couple of clicks
set the visual similarity level and find similar photos
automatically choose pictures having better or worse quality
avoid the manual search for resized, rotated and flipped images
bring order to your photo collection and enjoy showing it to your friends
handle colossal photo collections easily and quickly
That's precisely what duplicate image finder is meant for! It brilliantly works with images having file formats JPEG, RAW, J2K, GIF, BMP, PNG, WEBP, TIF, PSD, HEIC, and many others.
TIF, TIFF, FAX, G3N, G3F, XIF, GIF, JPG, JPEG, JPE, JIF, JFIF, PCX, BMP, DIB, RLE, ICO, CUR, PNG, DCM, DIC, DICOM, V2, WMF, EMF, TGA, TARGA, VDA, ICB, VST, PIX, PXM, PPM, PGM, PBM, WBMP, JP2, J2K, JPC, J2C, DCX, CRW, CR2, DNG, NEF, RAW, RAF, X3F, ORF, SRF, MRW, DCR, BAY, PEF, SR2, ARW, KDC, MEF, 3FR, K25, ERF, CAM, CS1, DC2, DCS, FFF, MDC, MOS, NRW, PTX, PXN, RDC, RW2, RWL, IIQ, SRW, PSD, PSB, IEV, IEN, IMAGEEN, LYR, ALL, WDP, HDP, JXR, PCD, DCM, DICOM, CUT, AVS, CIN, DOT, DPX, FITS, FPX, HDF, MAT, MIFF, MTV, PALM, PCL, PICT, PIX, PWP, RLA, SGI, SUN, SVG, TTF, VICAR, VIFF, XBM, XCF, XPM, JBG, JBIG, BIE, WEBP, HEIF, HEIC

Why Image Comparer?
New generation image scanner and content analyzer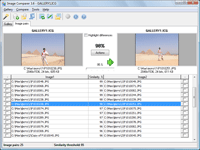 Image Comparer scans through the whole collection of yours. It takes seconds, while doing it manually you would probably spend hours if not days! Moreover, it analyzes the content of digital images, not just file properties. While you're relaxing, it literally "looks" through your pictures and groups those that look alike. Besides, it even highlights the differences between similar photos. You can view them in pairs (very convenient!) or see the top ten similar images and choose the best one.
Automatic photo duplicate cleaner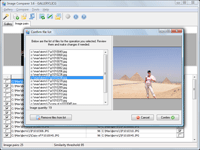 Image Comparer helps you automatically locate complete duplicates and similar looking images. The software is very fast, and in seconds you have presented pairs of clones. All you need to do is to tick the files to be deleted. At that, you're shown how many images will be eliminated and how much space will be saved after removing them. You can also let the program do that for you. As simple as that!
Your digital collection guard with perfect memory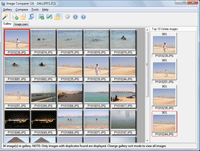 Having once analyzed and handled your photo collection with Image Comparer, you may relax and forget the nightmare of manual processing your images. That's possible because our program has got an excellent memory! Every time you add new photos to the group, the program compares them to the existing ones. So, duplicates have no chance! Image Comparer won't allow copies to appear again in your collection.
Don't hesitate and download Duplicate Image Finder now - you're not losing anything! You've got 30 days to try the program. In the trial version, you can find photo duplicates, but you can't move, delete or copy images. You'll see it's one of the best at the software market!